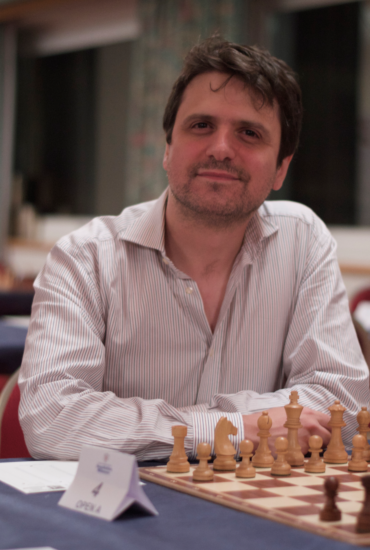 Ludwig Rettore
Event Manager
I am a chess National Master (Higest rating, elo 2230), chess teacher and FSI national instructor, event manager, journalist and writer.
I detain the italian record of ten simultaneous blindfold games, winning 5, drawing 3 and losing 2.
I am the president of group Veturia, a multicultural association.
CHESS TEACHER
I was always working with chess teaching and children of every age. I am full professor in chess in elementary schools in Milano (IT) since 1994, in association with Il Castelletto ASD and ChessProjects ASD.
I teach in university, I had chess courses joined in cooperation with Politecnico di Milano.
I teach also adults in chess clubs with more specific programs. I had two specific courses, "Pawn endgames" and "Meeting 1.e4″ Open and Semi-open systems in association with Bresso Chess Club.
I also am a teacher in summer masterclasses with children and adolescents, in association with Il Castelletto ASD and ChessProjects ASD.
I was twice FSI (Italian Chess
Federation) delegate of
instructors from my region, Lombardia, to follow and instruct the best of Italian youth onto the Italian U16 championship in Tarvisio (2014) and Montesilvano (2015).
From August 2017 my teaching is often in cooperation with the 6 times world Champion Anatoly Karpov
I organized several Masterclasses with Igor Glek, from 2010 to 2013 in Savona, creating a twinning between Italy and Russia. We had the great participation of Luca Moroni (IM), Drogovoz sisters, Anastasia Savina (IM), Illya Nyzhnyk
 (GM).
I was the co-Organizator of international event of 90ème Championnat de Paris IdF au stade Charléty (International Paris Championship), and the international Italian tournament of Bratto.
JOURNALIST AND TRANSLATOR
I am a leading figure in chess journalism in Italy. I wrote several articles for Scacchierando, which is the main chess information site in Italy, also for the periodical "L'Italia scacchistica" from 2000 to 2007 and currently for the main Italian chess periodical "Torre e Cavallo".
In 2017 I participated as host in the first streaming online Italian broadcast in cooperation with chess24, commenting games and interviewing players at 27th Italian Team Championship in Gallipoli.
I also translated Grand Masters lessons from Russian and English.
WRITER
I wrote a novel entitled "Il Re Drogato" (The Addicted King); it is a story of a lost young guy who finds himself and his soul through chess. The book was published in 2007.